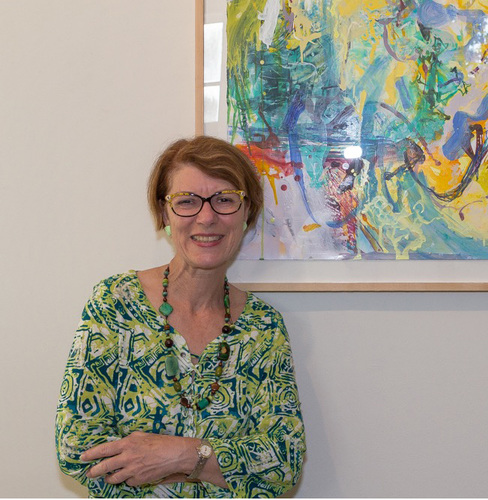 2016 MAGNA: The Working Large Show, Tivoli Artists Gallery, Tivoli NY

Bio
Heide Follin is a contemporary, abstract painter of natural phenomena. A graduate of the School of the Worcester Art Museum, Heide exhibits regionally in solo, two-person and curated group shows. A resident of Connecticut, she maintains an active studio practice in South Norwalk.
Solo and 2-Person Shows
2018
Organic Explorations, 2-Person show with Ellen Schiffman, H. Pelham Curtis Gallery, New Canaan Library, New Canaan, CT

2016
Visual Wanderings,
The Mayor's Gallery, Stamford, CT
2015
The Color of NATURE,
ARTWorks Gallery, Norwalk, CT
Selected Group Shows
2021 New Members Show, The Silvermine Gallery, New Canaan, CT
2020 Ensemble: Together Again, The Painting Center, Chelsea, NY
2020 Small Works Exhibition, Five Points Gallery, Torrington, CT Juror: Power Boothe
2019 Visual Connections, Wilson Avenue Loft Artists Gallery, S Norwalk, CT
Curator: Patricia Miranda
2019 Kaleidoscope, Schoenfeldt Gallery, University of Bridgeport, Bridgeport, CT
Curator: Mary Jo McGonagle
2018 Group Show, Sorelle Gallery, New Canaan, CT Juror: Miranda Girard
2018
101st Juried Exhibition
, The Bendheim Gallery, Greenwich, CT Judge: Randall Griffey, Curator of Contemporary Art, Metropolitan Museum, NY
2017
37th Annual Faber Birren National Color Award Show
, Stamford Art Assoc.
Juror: Devon Zimmerman, Director Asst at Pace, Modern Contemporary
2017
100th Annual Exhibit
, Greenwich Arts Society, Bendheim Gallery, CT
Judge: Kelly Baum
Curator Contemporary Art, Metropolitan Museum of Art, NY
2017
Art to the Avenue
, Greenwich, CT
2016
CITY WIDE OPEN STUDIOS
, Goffe Street Armory, New Haven, CT
2016
Powers of Observation Flinn Gallery
, Greenwich
Juror: Margaret Kross
Asst Curator at the Whitney Museum, NY
2016
MAGNA: The Working Large Show
, Tivoli Artists Gallery, Tivoli NY
Curator: Dana Matthews
2016
Spectrum
, New Canaan Carriage Barn Juror: Gabriel de Guzman
2015
Lineal Investigations,
Loft Artists Association, Juror: Robbin Zella
AWARDS
2020 43rd Annual Juried Show, Ridgefield Guild of Artists, Juror: Cybele Maylone HM
2020 Abstraction, Rowayton Arts Center, Judge: Joe Fucigna, First Place Award
2019 Thirty Ninth Annual Faber Birren National Color Award Show, Stamford Arts Assoc.
Juror: Meredith Brown, The Metropolitan Museum of Art,
SAA Award
2018 Community Sponsored Show, Rowayton Arts Center, Rowayton, CT
Juror: Amy Simon
First Place
2017 Member Show, New Canaan Society for the Arts, Juror: Miranda Girard, Sorelle Gallery
chosen to take part in a joint exhibit at Sorelle in 2018
2017 Member Show, Ridgefield Guild of Artists, Juror: Helen Kauder
Second Place
2017 Abstract, Rowayton Arts Center. Judge: Riad Miah
First Place
2017 Inspiration, RAC. Judge: Dean Fisher
First Place
2016 Abstraction, RAC. Judge: Eleanor Flatow
First Place
2016 Inspiration, RAC. Judge: Kenise Barnes
First Place
2015 Abstraction, RAC. Judge: Mary Louise Long
Best In Show
2015 Water Everywhere, Stamford Arts Association. Judge: Dimitri Wright
Second Place
2014 Elements, Loft Artists Association. Juror: Sophia Gevas
Bob & Pat Phillips Award
2014 Abstraction, Rowayton Arts Center. Juror: Elise Black
HM
2014 Brushwork, RAC. Juror: Arianne Faber Kolb & Eleanor Flatow
First Place
2014 Marine & Coastal, RAC. Juror: Brec Morgan
HM
2013 Brushwork, RAC. Juror: Bruce Waldman
First Place
2013 Alternative Visions, RAC. Juror: Mary Louise Long HM
2012 Alternate Visions, RAC. Juror: Joan Wheeler
Third Place
2012 Expressions 2012, RAC. Juror: Robin Garr
Third Place
2009 Marine & Coastal, RAC. Juror: Claudia Mengel
First Place
Education
The School of the Worcester Art Museum 1975 graduate
Parsons School of Design, NY 1980-82
Silvermine School of Art, Greenwich Art Society, Center for Contemporary Printmaking, ongoing professional development
Workshops and Professional Development
2020 Painting on Camera with Jonathan VanDyke, online workshop, MapSpace
2020 4-day on-line workshop, visiting artist lectures, collaborations and group critique,
The Crit Lab AltMFA
19-21 Monthly CritLab with Patricia Miranda at MapSpace, Portchester, NY
2020 5-day Abstract Painting Workshop with Alfredo Gisholt, Art New England/MassART
2019 Abstract Painting Workshop with Vickie Marsango, Rowayton Art Center, CT
2019 5-day Color Workshop with Nancy McCarthy, Art New England/MassART, Bennington, VT
2018 5-day Monotype workshop with Marina Anacona, Master Printer,
Center for Contemporary Printmaking, Norwalk, CT
2014 5-day Painting Workshop with Bill Scott, Pennsylvania Academy of the Fine Arts, Philadelphia, PA
2011 7-day En Plein Air Painting Workshop, Dimitri Wright, Master Painter,
Cap d'Antibes, France
2009 & 2010 5-day Painting Workshops with Hugh O'Donnell, Professor of Art,

Boston University, Washington, CT
Professional Memberships
Silvermine Guild of Artists, New Canaan, CT
The Painting Center, Chelsea, NY, Flat File member
Katonah Museum Artists Association member
Greenwich Arts Society, Greenwich, CT
Ridgefield Guild of Artists, Ridgefield, CT
Carriage Barn Arts Center, New Canaan, CT
Rowayton Arts Center, Norwalk, CT